Review of Villa Bianca
Puerto Calero, Lanzarote, Canary Islands
CALL US 07789 006767
OR 00 44 7789 006767 (from outside of the UK)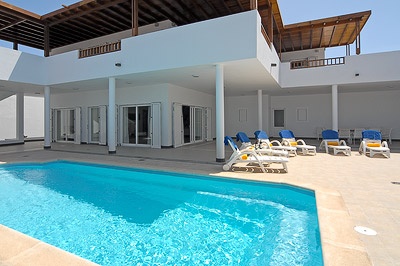 We can highly recommend this five bedroom villa in the Puerto Calero resort in Lanzarote. It not only has sea views, but there is also a wi-fi connection availabel for guests use with their own laptops. The villa is modern and decorated to a high standard. There is a large heated pool with plenty of sun loungers.

Things to Do in Puerto Calero
If you like fishing, we recommend you try Lanzarote Fishing Club on the Mizu. The skipper takes the boat to the best known fishing spots. A buffet lunch is also provided, consisting of pasta, beer, water and soft drinks.
Email us for more information, prices and availability of this villa.